Using Moodle does not mean that there is one solution for every instructor, group of students, discipline, or pedagogy. With this in mind, we've created four different models to demonstrate what various utilizations of Moodle by an instructor might look like:
The Basics: A very simple, minimalist Moodle example
A full-featured example using many features
The Course Reserve: An example of a Moodle site that serves mostly as a course reserve of readings
The Link Hub: An example of a Moodle site that merely provides links to other sites (e.g., Teams site)
There are other options imaginable, so adjust these to meet your needs.
The Basics
This is quickest, simplest approach using the default course format. The instructor here has dragged-and-dropped their readings and other files directly from their computer (note: this brings along the file names but you can clean that up). They've done the same with the syllabus and added a few links with the URL tool. There are no explanatory text or instructions, no Assignment dropboxes, but that's okay. This is the basics to provide students with the syllabus and readings.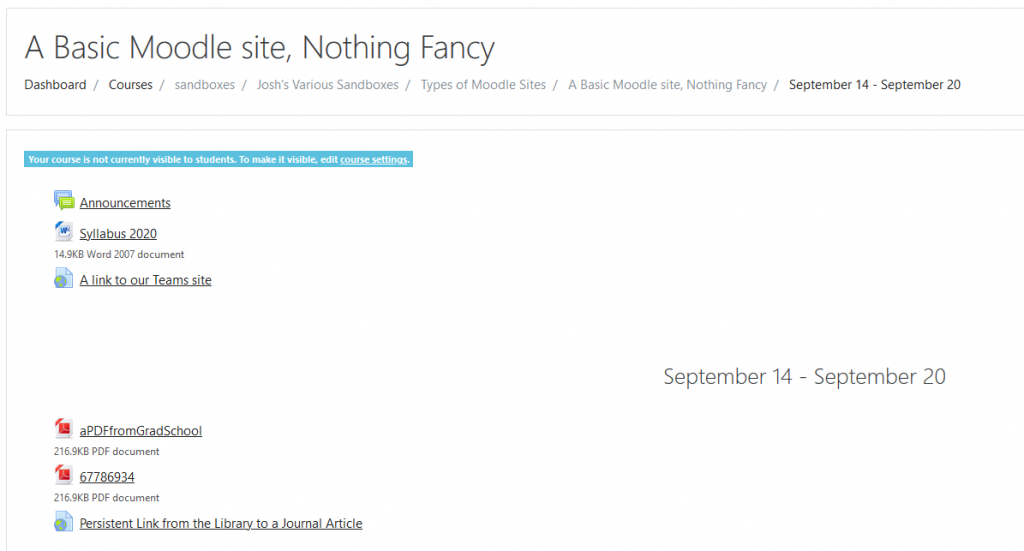 A Full Moodle Site Utilizing Many Features
My "How to Organize a Week of Online Learning in Moodle" post from spring is based on this model. While this uses a similar weekly structure to The Basics site, you'll see important differences. In terms of formatting, the instructor has used the Description fields to offer explanatory text about activities. File names have also been cleaned up and renamed (full citations are a copyright recommendation). They have added more tools including a discussion Forum, Assignment dropbox, and a Feedback survey. Some resources utilize "Move Right" to imply their direct relationship to the reading PDF and provide structure. Again, there are many gradients between this option and the Basics. It's all about the features you and students could benefit from.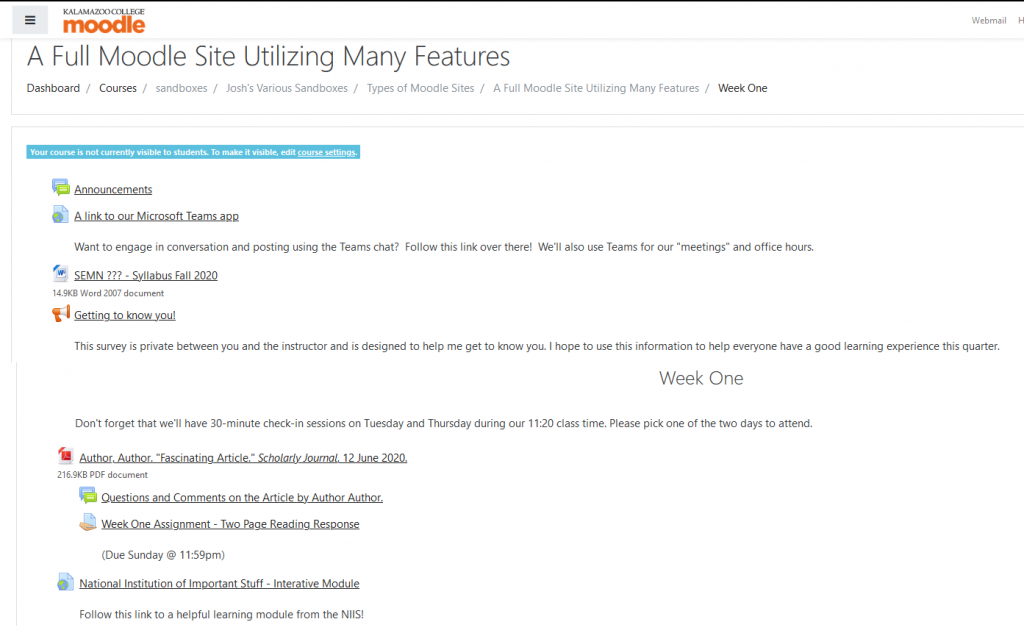 The "Course Reserve."
This Moodle site has done away with the weekly format and placed all content in a list at the General (top) section. The idea here is to replicate a course reserve and supply students with the reading documents that they need for the quarter. If you already have a plan to facilitate discussion, support collaboration, receive assignments, and just need a convenient space to supply students with documents, this is the template for you.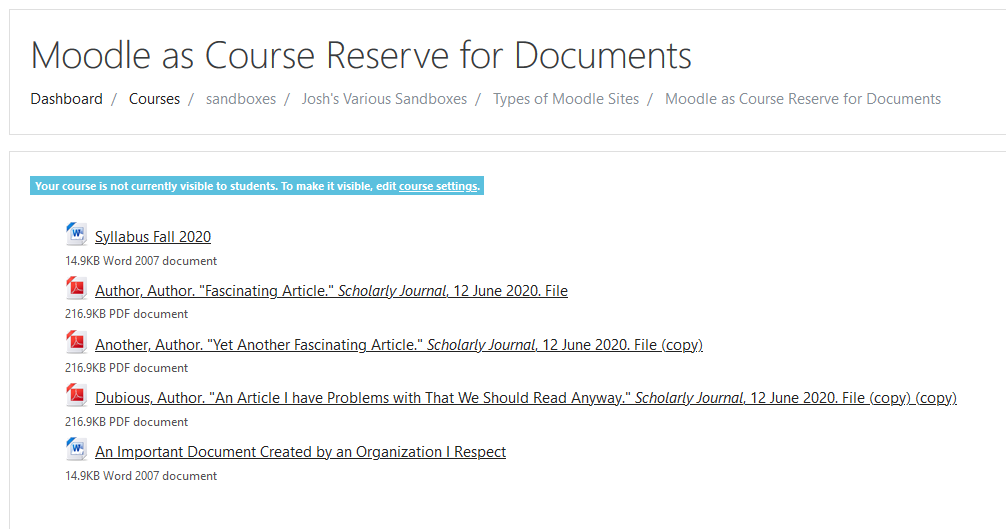 The Link Hub
If you're doing all of your digital communication with students on another platform or with other software, you can keep Moodle to a jumping off point with links. Even if you're not spending much (or any!) time on Moodle, the goal here is to help students stay organized and have at least one, consistent hub to keep their online course content accessible that every instructor is using in some capacity.