Wait, I thought we just rolled out Teams? Why I am using Moodle?
Teams is not designed to replace Moodle. Moodle and Teams can compliment one another. Moodle is an open-sourced, community-supported product that has decades of experience in traditional Learning Management System functions like receiving Assignments, distributing Files, and organizing a course. Though Microsoft has attempted to introduce some of those functions to Teams, we recommend focusing Teams use on their modern Chat interface, the videoconferencing functions, and other collaboration tools.
Where is my Moodle course? I don't see it!
Visit https://moodle.kzoo.edu/login/index.php to access the login page. Enter your K ID and password. Once you are logged in, you can look at the Course Overview block on the Dashboard. Fall 2020 sites will be listed under "Future" until September 14th. At that time, they will also appear in My Courses on the menu on the left.
Okay, I found my Moodle. How do I begin setting this up?
Consider starting the the Four Models for Your Moodle Post on the Teaching Commons. What do you need your Moodle site to do? Do you need weekly sections or should you delete them? To learn how to use the site, you can watch a video introduction on Stream. If you're inclined to read, there is also a Moodle 101 page with instructions. Would you like to talk to a human being? Contact Josh Moon, Educational Technology Specialist.
How do I get students enrolled in my Moodle site?
The simplest solution is to make sure you have set your Course Visibility to "Show" and then copy the Moodle course's URL into an email to students (example: https://moodle.kzoo.edu/course/view.php?id=2638). Alternately, you can direct students to navigate to the appropriate departmental category under the active quarter Course Sites. In either case, they will need to login and click the "enroll me" button for the course.
How can I limit who can join my Moodle site?
Moodle does allow "Enrollment keys," which are essentially passwords to protect course access. If one is especially concerned, you can prevent students from self-enrolling and manually add students from your course roster. For the latter option, click "Participants" in the menu then select "Enrollment Methods" in the gear wheel icon. By clicking the eye icon, you can disable Self Enrollment for students. You will then have to return to Enroll Users and manually search for students.
How do I open my Moodle site to students?
On your course's main page, click the gear wheel in the upper right and select "Edit settings." In the Settings option for Course Visibility, change the setting to "Show."
What is the easiest way to get my files on there?
While you can use the File resource to manually add files with more control over settings, you can also turn your Editing On then drag-and-drop files from a folder on your computer. You can also go back and adjust settings to files already on Moodle.
How do I give feedback to students?
If you're using the Assignment activity, you can choose multiple options for giving feedback. The most common are to enable Feedback Comments to give the grader a text window to add comments and Feedback Files which allows the grader to upload a file of their own for grading. Rubrics, a PDF editor, and other options exist. Note: this is not what the small "Comments…" (below) field is for.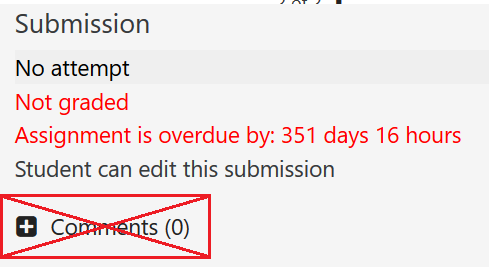 I plan on delivering a lot of video content to students with Moodle. What is my best option?
Hosting large video files directly on Moodle causes problems for the system and are difficult to access for users. Fortunately, there are other options to get your video content on Moodle. If you need to host your video somewhere, you can upload it to Microsoft Stream or your own hosting solution. Moodle will allow you to link or embed these hosted files.