Here I share how I used Instagram as a replacement for slideshows and more traditional Moodle posts, allowing students to engage aesthetically and analytically with course materials in ways that felt personal and accessible.
I'm sure we all have salient memories of March 13, that final day of classes at K when we knew coronavirus was looming, when we were just wrapping up the Winter term, completely unsure of what was to come. We had just begun carrying around little bottles of hand sanitizer with us, masks were not yet a thing. Maybe we had a pack of Lysol wipes in our offices. Our students sat close together, sharing bagels and iced coffees. We stood close together in the library elevator. At the end of my morning class, not knowing when they were going to see me again on campus, a couple of students asked if we could give me a hug. They were the last people I hugged outside of my family.
That morning students in my Religion and Masculinity class were chatty and restless as we sat in our library classroom. Rather than discuss the reading for that day on the intimacy of 19th century men's studio portraits, we spent the class time imagining what an online class at K might look like. The first things my students dreaded was having their only meaningful interaction with course texts be through Moodle posts. My brilliant colleague, Ambre Dromgoole, a PhD Candidate at Yale, had tweeted a few days prior about using Instagram Live in lieu of other lecture-delivery platforms. I loved the idea of using Instagram and floated it by my students. Instantly they agreed that it would be fun and accessible to use social media for classes. I was preparing to teach my Catholics in the Americas class in the Spring. Usually my slideshows at the start of each class are full of Met Gala costumes, skulls, bones and other macabre relics, cathedral interiors, statues, woodcut images of burning convents, festivals, and processions. A course on Catholicism begs for visual richness and interactions with objects, architecture, and art. Instagram is the perfect platform for students to think about the relationship between tradition, practice, texts, objects, and images.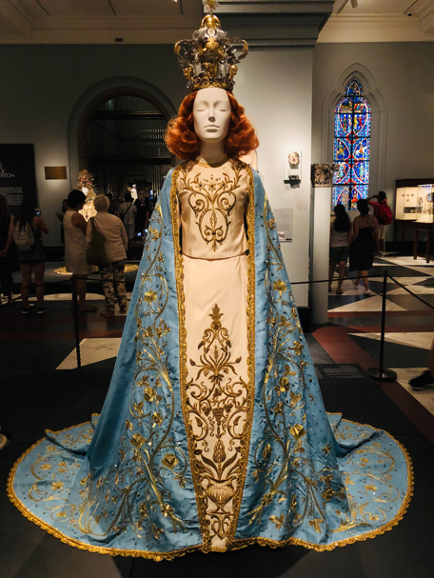 As I told my students, Catholics are EXTREMELY ONLINE, by which I mean many of them use social media, whether that be Instagram or Twitter to share dimensions of their religion, to post images of saints and rosaries, prayers, and increasingly the internet and social media platforms have become a media of presence. Blessings and the presence of Christ can travel through computer screens and Twitter posts. Just before the Spring term began, on March 28, 2020, Pope Francis delivered the Urbi et Orbi [to the city and the world] Blessing to an empty St. Peter's Square. In the blue glow of night tens of thousands of people all over the world tuned into a livestream. Catholics watched as the Pope adored the Blessed Sacrament, and as he walked out onto the square in the rain holding the gold monstrance with the body of Christ at its center. This was not simply a symbolic gesture, but an efficacious one. From the square, through the cameras, through thousands of screens Catholics were not only blessed, but could receive a plenary indulgence, a remission of temporal punishment for sin, if they tuned in by internet, radio, or television. In short, the internet, social media platforms, and other digital media technologies are central to how Catholics stay in touch with Rome, with each other, and are essential to contemporary devotional culture and practice. So Instagram seemed the perfect way for students to engage with historical and contemporary Catholic culture, and curate their own images to go with their thoughts on the readings and materials each week.
Every student was required to make a new Instagram account that they would use just for class—to minimize the awkwardness of using their personal accounts, and I too made an account that was private and just for class use. On their account they would post weekly in response to the readings, films, or sources for that week. Each week they would post what I called a "Virtual Provocation:"
These posts should include a reflection on something that interests you in the day's readings and questions for discussion. Your post can be a combination of your own thoughts and quotes, passages, images, memes you have made, media clips etc.

Use these posts to raise provocations—what stood out to you? Can you make connections with other texts, examples, classes, events etc.? Did something in the text jog your memory? Do you take issue with any of the author's arguments? Why? These should help jump start discussion and you should read and comment on each other's posts as well. Posts should raise substantive issues rather than noting minor curiosities or posing purely informational questions. These will demonstrate your engagement with the texts and themes.
For this kind of assignment, fewer guidelines helped the students find their own voice and style. K students, creative, curious, independent thinkers that they are, rose to the challenge and I was delighted with how thoughtful their posts were. In response to videos, readings, and primary sources, students would select an image—sometimes this was a family photo, a picture from their time abroad, a painting, a building, a devotional image etc.—and their caption would contain their response to the readings. They knew these would be read by me and others, so it was the perfect place to ask questions, quote the text, and voice their own perspectives on the course readings. Sometimes these were personal, as students who had gone through Communion and Confirmation themselves, or went on pilgrimages, shared how the text complemented, complicated, and illuminated their own religious histories and experiences. Often these were critical, when they were voicing frustration with an author's argument or critiquing missionaries and their role in colonization, or the Church's theology of gender and sexuality, or the entanglement of religion and politics. I found these posts were of much higher quality than any Moodle posts had been in past classes, perhaps because of the reflection and thought required in pairing text and image, or the accessibility of the technology and their ease with the platform. For me, reading their posts was as simple as scrolling my feed, something I would do naturally. Due the night before our synchronous discussions, these posts were useful as I prepared discussion questions, and helped me prompt students to share their ideas and stories. The posts helped me create personal connections with students who I had never met in person, allowing me to learn their voice, and their unique perspective on the world. This made what could sometimes be awkward video chats run smoothly and much like an in-person class discussion would. Students would read each other's posts and be ready not just to talk to me, but with each other about the materials, and they really enjoyed the use of social media for distance learning. Some student comments:
"Instagram was used so well!!! I don't know if you have been considering this yet, but when you go back to in person you might consider still using it. That was really amazing."

"The class platform was super enjoyable – connecting over social media to post provocations and other interesting things. That was super different and exciting, not to mention creative on Dr. Maldonado's part."
Some samples of student profiles: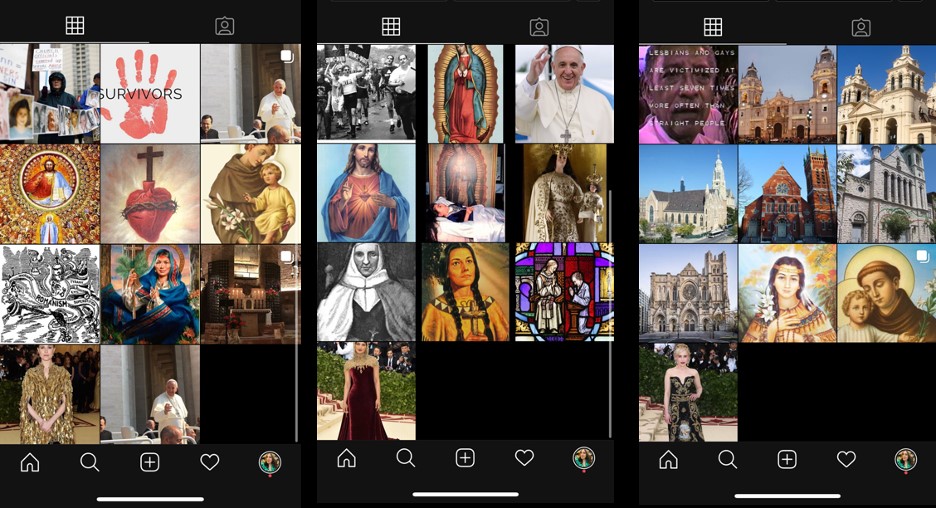 Some students made memes, which takes a deep understanding of the material, and I love the remixing of old and new media forms. In the one below, a student thinks about Jesuit's glorification of martyrdom in New France in their missionary work with the Iroquois. The student even tagged each of their Instagram accounts in the meme.

In the pandemic, sometimes with shoddy WiFi, or devices shared between multiple siblings, it is important for students to be able to access course materials and even engage in course requirements on their phones. If I feel like I have low bandwidth for watching videos and other recordings, students might too. Instagram stories became a perfect way for me to deliver background content and share visual media with students without the need for video streaming or even sharing or downloading attachments. They could casually click through an Instagram story wherever they might be, and at whatever time of the day they find time. About once a week, I used Instagram stories in lieu of PowerPoint to create stories that students could click through to learn about historical background and context, whether that be the origins and development of devotion to the Sacred Heart of Jesus, anti-Catholicism in the 19th century, violence between Protestants and Catholics, or why saints are so important. I prioritized choosing a compelling image for each slide. I then typed out a couple of short sentences to go along with the image—slotting lecture notes right into a slide won't work as each needs to be easy to read and minimal. Attention to color, contrast, font size is important for readability too. Just seeing these images helped build a familiarity and facility with Catholic iconography and material culture, an important part of this course. An example of a cover slide and two informational slides: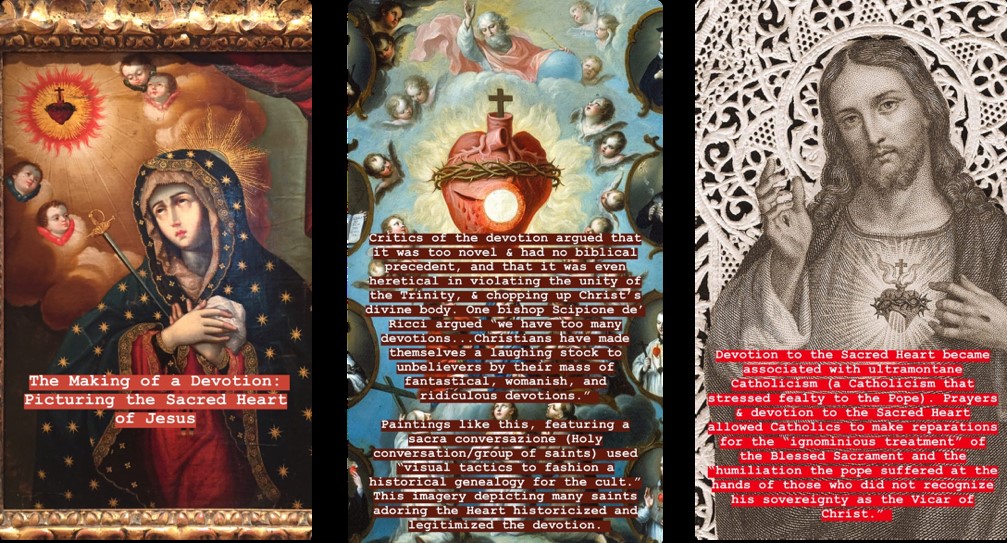 Using Instagram helped students not only understand Catholic objects, spaces, and aesthetics (and learn that Catholicism is about much more than the hierarchy and theology), but also learn and display facility in how to discuss them. They were able to think critically about representation and practice, and about the pervasiveness and diversity of Catholicism in their towns, cities, and online worlds. I found it to be an equitable way to share content and have students engage in the course and contribute their own thoughts using only their phones. The flexibility and creativity of this platform and their facility with posting and viewing text and images in this way yielded strong work, critique, and analysis in ways that directly fed into our class discussions. More, this platform pushed me to consider how to deliver information in bite-sized and visually interesting ways, and it helped me connect with my students outside of learning management software. It met me where I was and met them where they were. I imagine these kinds of posts and stories could work well for a variety of disciplines to help students connect in meaningful ways with class materials and develop and share their own written perspectives, questions, and critiques.